Tin Dragon Cottages now have their first EV charger installed and operational.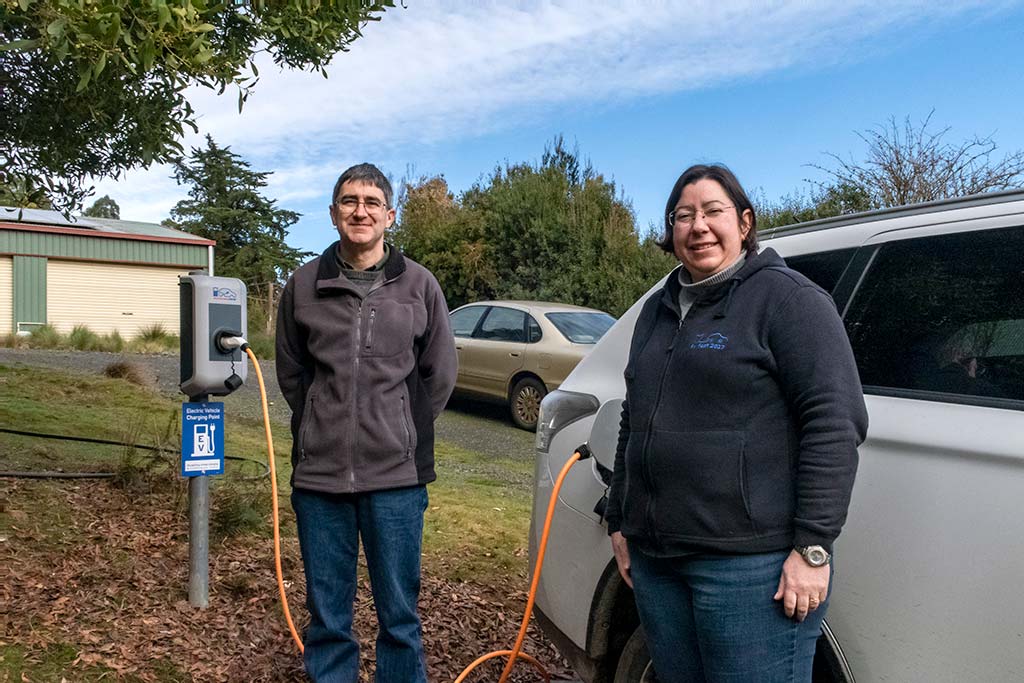 The Tasmanian Government awarded Tin Dragon Cottages a grant as part of their Electric Vehicles ChargeSmart Grants – Destination Charging program. Grant recipients will set up EV stations in the North, South, North East, North West and East Coast. Locations will include public carparks at councils, businesses and visitor destinations.
What Type of Electric Vehicle Charger?
Tin Dragon Cottages has installed a Keba electric vehicle (EV) charger with a Type 2 socket. The charger will have a maximum output of 22 kWh using 32 A three-phase AC power.
In addition we have purchased two cables for type 1 and 2 plugs. Guests can ask to borrow these.
Even more exciting news is that Tesla have given us an additional two Tesla chargers which have been installed on our new guests' community building and on the wall of Ah Ping cottage. These will be available in early December 2019.
Who Can Use the EV Charger at Tin Dragon Cottages?
The EV charger is available for overnight guests staying at Tin Dragon Cottages. Other visitors to Branxholm can also use the charger for short periods (up to two hours) by appointment (mob 040 750 1137). Our Keba charger is on the plug-share map of Tasmania. Our minimum cost to guests is $10 at the rate of $0.33 per kWh.
EV Charger Uses Renewable Energy
Your EV charge will be from 100% renewable energy. Tin Dragon Cottages generates up to 210 kWh of power each day from a combination of solar and hydro energy.
Tasmania to Become EV Destination Island
The Tasmanian Government awarded grants of up to $50,000 to support the installation of Direct Current (DC) electric vehicle charging stations. These chargers will be available for public use.
Fast chargers provide a high rate of charge and are installed where drivers need to recharge and get back on the road quickly. So the good news is that Tasmania will be the tourist's EV destination of choice in Australia. Furthermore there will be four EV chargers available in North East Tasmania.